What is iPlatform?
IPlatform is a general intelligent application platform that revolutionalizes application development, maintenance, enhancements, and delivery.  It "executes" your application requirements written in English using Microsoft Word, Visio, Excel and other word processing tools. It transparently integrates with your OSS and backend systems. Once the production switch is turned on, it delivers the application (both logic and data) to users via seven (7) different channels by default. Additional channels can be added with minimum efforts.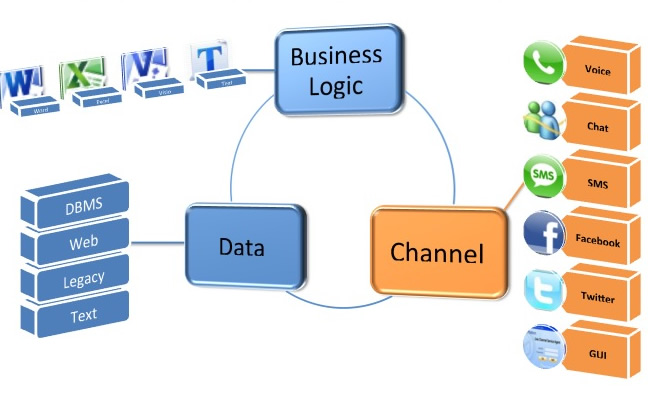 Benefits
Once an application is deployed to IPlatform, it is instantly available for customer self-service without additional development and programming.
The embedded natural English conversation capability provides a better, more natural user experience...
The Internet community channels such as Facebook and Twitter provides a new convenient, inexpensive customer service channel.
 As a result, it will shed calls to call centers, expand access, increase automation rate, provide a better user experience and therefore increase customer satisfaction and loyalty while reducing your labor costs.
The "One Engine Drives All" framework provides consistent customer service with full functionality and features across all channels without overlapping investments and efforts. Features and functions are pushed to all the channels transparently. As a result, it will significantly cut IT cost, provide speed to market and increase your automation rate.
The paradigm shift of true "seamless engagement" potentially revolutionizes the contact center operation. It transparently engages a live agent for only those tasks that need the attention of live agents. As a result, it will significantly reduce AHT and labor costs.
The learning and adapting capability resident in IPlatform supports continuous self-improvement without IT investments and efforts. The learning and adapting occurs in real-time and in production. As a result, it will continue to reduce AHT, increase the automation rate, and improve the quality of dispatches.
IPlatform is a leading edge intelligent  application platform, which provides better customer service, a better user experience, significantly reduces AHT, will increase the automation rate, and improve quality of dispatches. The bottom line is that it significantly reduces service cost and improves customer service.